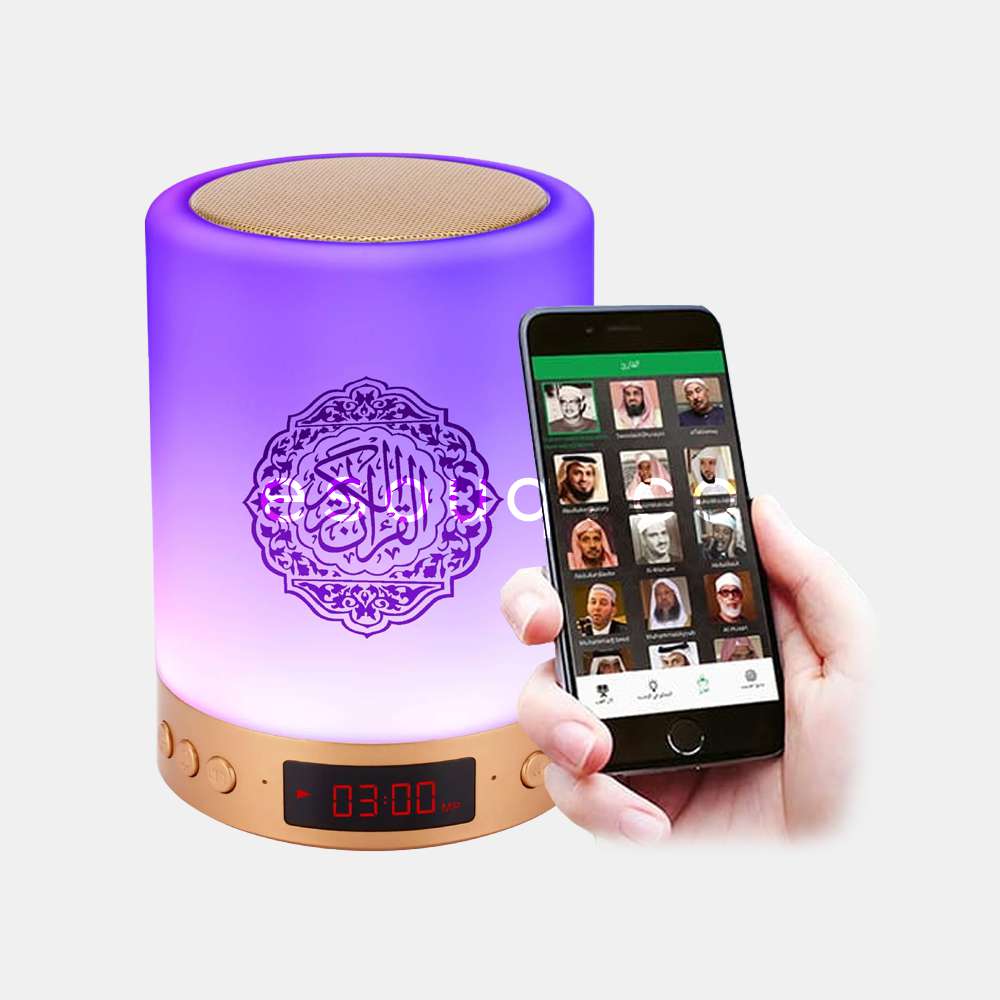 Quran Bluetooth Touch Lamp Speaker with App Control
Main Features: Azan display + App Control
⦿ Ideal for the younger generation who are familiar with smartphone
⦿ Can control light and brightness from app
⦿FM function
⦿Word by Word Quran Recite learning, Aya by aya, Surah by surah, Playback , tafsir, and remote control to choose ayat or surah.

Package contents:
Speaker LED Device X1
Remote Control x1
User Manual (Please READ) x1
Audio Cable x1
USB Cable x1
Charger x1 Note:Built In Battery

Plus Points!:

1.Play any Quran Surah No. by pressing the button on remote or app.
2.Play Quran audio word by word.
3.Playing Quran translation. Select your native language for understanding Quran meaning.
4.Playing MP3 audio. Support any audio MP3 files.
5.Combine and single mode available. For listening Quran audio and any translation together, please press the MODE button, for single mode, press again.
6.FM radio function
7. 4 level Lighting by remote.

LED Speaker Quran Lamp Specification:
→Item Model SQ-112
→Main Function Lighting , Learning , Quran reciter , Translations , MP3 ,Recording , FM
→Material Steel body with ABS
→Special feature Mini Portable Wireless Remote
→Remote Distance =10m →Working Mode Combine Mode and Single Mode
→Channel 1
→Lumens 600
→Color White + Gold
→Weight 0.3kg
→LED Speaker Light Size 96*122mm
→Remote Control Size 4.6*1.4*2cm
RECITERS:
1) Abdul Basit Abdul Samad
2) Abdul Rahman Al-Huzaify
3) Abdul Rahman sudais
4) Ahmed Ali Ajmi
5) Hani Ar Rifae
6) Ibrahim Al Akhdar
7) Maher Al-Muaiqly
8) Mahmood Khalil Al Hussary
9) Mishary Rashid
10) Mohammad Ayyoub
11) Mohammad Siddique Minshawi with Children
12) Saad Al-Ghamdi
13) Saood Ash Shuraym
14) Mohammad Ibrahim
15) Ibrahim Al-Akhdar

TRANSLATION LANGUAGES:
1) English Translation
2) Malay Translation
3) Hindi Translation
4) Bosnian Translation
5) Dari Translation
6) French Translation
7) German Translation
8) Kurdish Translation
9) Pashto Translation
10) Persian(Farsi) Translation
11) Russian Translation
12) Somali Translation
13) Spanish Translation
14) Turkish Translation
15) Urdu Translation