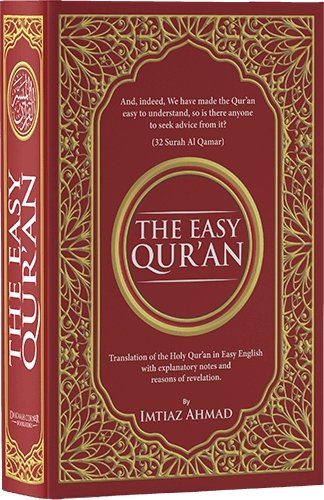 The Easy Quran (English Transalations)
𝐓𝐇𝐄 𝐄𝐀𝐒𝐘 𝐐𝐔𝐑𝐀𝐍 translation by Sheikh Imtiaz Ahmad of Al Madinah Al Munawarah indeed will make understanding of the Holy Qur'an easy and simple to the non-native English speaking people, Inshaa Allah.

A noble initiative by Dawah Corner Bookstore Makkah to serve the book of Allah, with a fresh look and high quality print, but at an affordable price that comes in 3 amazing colours (red, green, and blue); makes it ideal for your own use and as a gift too.

Despite the many translations out there, The Easy Qur'an translation is distinguished with its outstanding features, some are as follows:

• An eloquent tone of simplicity, accuracy and spirituality that prevails throughout the translation.

• Skilful blending of literal meanings and its relevant interpretations.

• The emphasis was laid on the context and its meaning.

• References to al-Hadith were also given to ensure authenticity.

• The recent scientific discoveries were also included in it wherever relevant.

• Following the way of the People of the Sunnah and the Jama'ah in the explanation and exposition.

• Employs expressions that are commonly used and easy to understand.

• Avoided difficult phrases and explications that may burden the non-Arab-speaking readers.

• Includes authentic reasons of the revelation of the verses of the Holy Quran.

The Easy Qur'an translation is reviewed and approved by the Ministry of Information Saudi Arabia and the Ministry of Religious Affairs Republic of Pakistan.