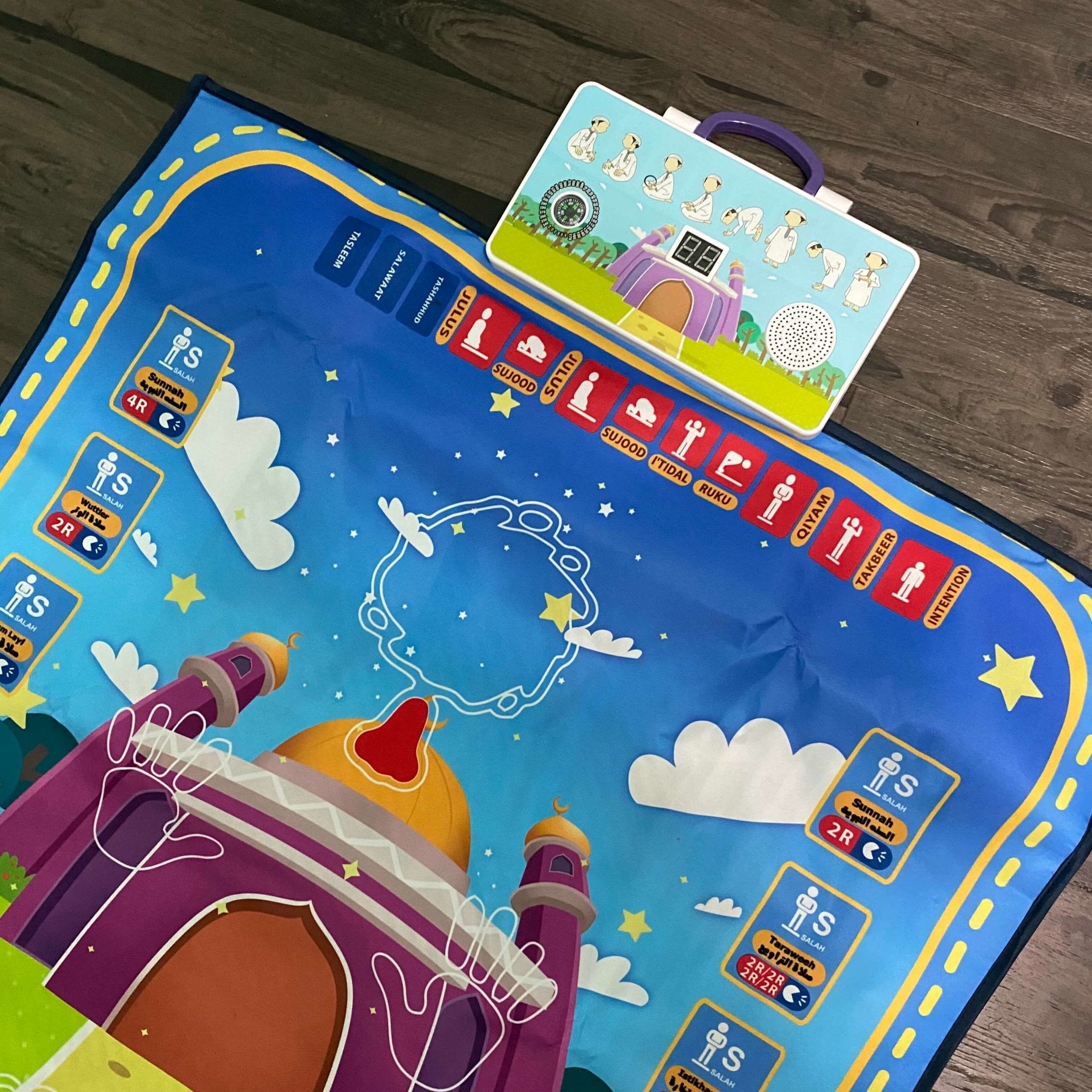 Sajada Interactive Prayer Mat For Muslim Children
NEW DESIGN 
 With SAJADA, parents find that it's much easier to teach their children how to pray the 5 daily prayers.
SAJADA is equipped with SMART PANEL which serves to give movement commands in prayer and has voice speakers to read Al-Fatihah, common surahs, tasbeeh and duas in a prayer.

Warning: This sejadah is sensor sensitive, if you have children who are active and can't keep still. please get a prayer kit with no sensor instead.

WHY IS THIS EDUCATIONAL PRAYER MAT SO SPECIAL FOR CHILDREN?

1. FIRST IN SINGAPORE
▶ The only prayer mat which teaches your child SALAH faster, easier and effectively. Just need to follow the movements taught by 'SMART PANEL'

2. EQUIPPED WITH MOTION SENSOR
▶ Just keep the feet on the SAJADA, Technology MOTION SENSOR will detect and will automatically read the TAKBIRRATUL IHRAM. Great right?
MOTION SENSOR embedded on the bottom layer of the prayer mat track the movement of the body during prayers. If there are errors in the movement, the control panel will emit a warning sound indicating that a mistake Movement
Therefore, learning SALAH will be INTERESTING AND FUN for your children with the voice and direction of the SAJADA

3. 'PRAYER ILLUSTRATION LED DISPLAY'
▶ To facilitate these children according to the movement of prayer, we also include a display of the prayer movement in the form of LED display. It can give you an idea of how the movement SALAH was shown.
4. 5 PRAYER TIMES & OTHER SALAH
▶ 11 MODE to learn the following: 5 prayer times (Subuh, Zohor, Asar,Maghrib, Isyak), Solat Sunat 2 & 4 rakaat, Taraweh, Witir, Qiamulail dan Isthikarah.
5. SHORT COMMON SURAHS
▶ To simplify your children memorizing the reading PRAYERS, the prayer mat has been programmed with COMMON SURAH reading in every prayer randomly. So, your children will find it easier to quickly memorize verses to read during prayers.

6. L.E.D RAKAAT 'COUNTER'
▶ For starters who are learning to pray, it's certainly quite difficult to remember every RAKAAT, right? With SAJADA, we include LED Rakaat Counter to count every RAKAAT that being carried out.

7. QIBLA COMPASS
▶ Just need to put the SAJADA, the compass will rotate according to the Qibla direction.
Tags: Sejadah, Sajada, prayer rug, prayer mat, sejadah interaktif, e sejadah, e-sejadah, sejadah elektronik, kids prayer mat, children prayer mat, ajar anak solat, prayer mat for kids, educational prayer mat, kids sejadah, kid sejadah
Note: 3 AA Heavy Duty are REQUIRED. Batteries Not Included. 
Size 110 cm x 70cm (standard sejadah size). Palm size, fit according to a child.
This is for CHILDREN only. If you need for bigger children, teenagers or adult, get a Learn2Solat Prayer Kit Instead.